Jaipur Fresco
Arayash-great tradition of Jaipur Fresco Painting Workshop for Ten days
Fresco and other wall painting techniques have been a great means in our country for training the Indian mind for appreciating art, acquisition of knowledge and inculcation of religious feeling. The wall painting of Ajanta, Bagh and cochin are glaring examples of the same.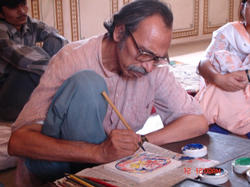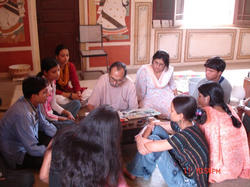 Rajasthan proudly claim to have preserved and spread this antique art in a live form. Here fresco painting has always received royal patronage and encouragement from the people. This technique was most prevalent in Amer, Jaipur, Shekhawati, Alwar, Udaipur, Jodhpur, Bikaner, Nagaur, Kota, Bundi, Uniara etc. It has been used extensively for drawing, decorating and simple plastering in ancient houses, temples, forts, palaces etc. But its usage has decreased drastically since past many years due to the increasing popularity of cement and lack of skilled craftsmen of fresco technique.
The work of Arayash was a cheaper supplement of marble. Walls made up of Arayash are plane like marble and glossy like mirror. Arayash's importance other than its permanency is that the floor and walls made of it remains cool in summer and warm in winter. Huge water tanks were prepared using this technique to keep water clean and cool.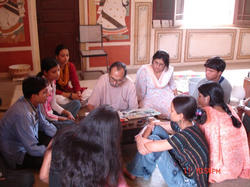 The workshop is to revive this art and cultivate creative independence of individual in this medium so they may find expression for their individual visions and realize their talents. In this workshop they are encouraged to follow their own imaginative journey to explore and nurture ideas to experiment with the medium freely.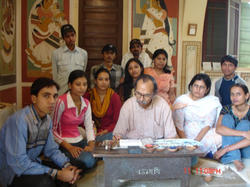 Details of the Courses
1. Jaipur Wet Process – (a) Knowledge of material and media used in this process method of preparing and using the colours etc. (b) Preparation of ground and wall surface experimenting on small plaster tiles, cartooning, finishing and polishing.
2. Italian wet Process – Preparation of ground surfacing, Proportion of lime and sand and method of work on large and small areas.
3. Tempera Process – Training in mixing of colours, use of gum-egg media and method of a preparing indigenous colours use of gold and silver colours.